Featured Recipe
Macaroni & Beef Casserole

Browse Recipes by Category
Enjoy your favorite recipe with wines selected by Jacques Franey, Pierre's son. Contact Domaine Franey.
Grilled Salmon Fillets With Fennel Mustard Sauce
An interesting use of Dijon mustard is to blend it with fennel; the result has a distinct but not overpowering character that marries well with salmon. And, an elegant summer rosé to serve with it.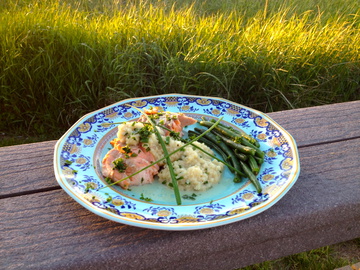 INGREDIENTS
4 boneless salmon fillets, about 6 ounces each, with skin on
1 tablespoon olive oil
4 sprigs fresh thyme, or 2 teaspoons dried
Salt and freshly ground pepper to taste
1 head of fennel, about ¾ pound
3 tablespoons butter
2 tablespoons shallots, finely chopped
½ cup Chablis, or other dry white wine
¼ cup water
2 tablespoons Dijon mustard
2 tablespoons chives, chopped
12 chive sprigs for decoration
PREPARATION
1. Brush the salmon on both sides with olive oil. Sprinkle with thyme and add salt and pepper to taste. Cover with plastic wrap and marinate at least 10 minutes.
2. Trim the fennel, removing all but the white bulb at the center, and cut it into thin slices.
3. In a small sauce pan, melt 1 tablespoon of the butter and add the shallots and fennel. Cook over medium heat briefly, stirring until wilted. Add the wine, water, and salt and pepper to taste. Bring to a boil and simmer about 5 minutes, or until reduced by half.
4. Pour the contents of the saucepan into a blender or food processor. Add the mustard and blend to a fine, smooth sauce. Transfer this sauce to a small saucepan and simmer for about 3 minutes. Stir in the remaining butter and chopped chives, and keep warm until ready to serve.
5. Preheat the grill and place the salmon on it skin side down for about 3 minutes. Turn the fish and cook it for another 2 minutes. It will still be pink inside. If you prefer it cooked more thoroughly, increase the cooking time.
6. Lay the salmon fillets on warmed plates. Spoon sauce around the fish and garnish with chive sprigs. Serve with
Matignon, a vegetable garnish
.
YIELD
4 servings