Featured Recipe
Macaroni & Beef Casserole

Browse Recipes by Category
Enjoy your favorite recipe with wines selected by Jacques Franey, Pierre's son. Contact Domaine Franey.
All-American Crab Cakes
Fresh bread crumbs can easily be made in a food processor. Tear up some bread (preferably from a baguette) and place small chunks in processor and pulse. Left over bread crumbs can be stored in the freezer in a zip-lock bag.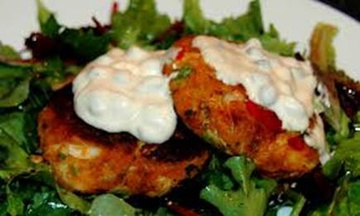 INGREDIENTS
1 pound crab meat, lump style preferred, shell and cartilage removed
1 cup scallions, chopped
2 large hard-boiled eggs, chopped
½ cup chopped celery
1 cup crushed saltines
2 large eggs , beaten
2 teaspoons Worcestershire sauce
1 tablespoon Dijon mustard
½ teaspoon Tabasco sauce
Salt and freshly ground pepper, to taste
½ cup fresh bread crumbs
¼ cup canola oil
PREPARATION
1. In a large mixing bowl, combine the crab meat, scallions, and hard-boiled eggs.
2. In another bowl, combine the celery, saltines, eggs, Worcestershire sauce, mustard, Tabasco sauce, and salt and lots of pepper. Mix well.
3. Add the celery mixture to the crab meat and fold all the ingredients together until well blended.
4. Divide the mixture into 12 equal parts and shape into round cakes. Dredge them lightly in the bread crumbs.
5. Heat the oil in a 10-inch frying pan over medium-high heat. Add the crab cakes and saute gently for about 3 to 4 minutes on each side. Drain and serve with
Remoulade Sauce
or
Tartar Sauce
.
YIELD
6 servings