Featured Recipe
Macaroni & Beef Casserole

Browse Recipes by Category
Enjoy your favorite recipe with wines selected by Jacques Franey, Pierre's son. Contact Domaine Franey.
Mussels Vinaigrette
As summer draws near, this is an ideal way to start a dinner or serve for a luncheon. Serve with slices of a crusty baguette to wipe your plate clean!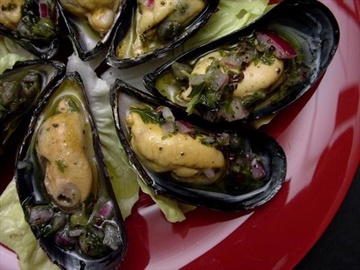 INGREDIENTS
5 pounds clean, well-scrubbed mussels, the smaller the better
½ cup wine vinegar
2 sprigs thyme, or ½ teaspoon dried
1 bay leaf
Freshly ground pepper
1 ½ cups chopped red onion
⅓ cup chopped parsley
¾ cup peanut, vegetable or corn oil
PREPARATION
1. Place the mussels in a kettle and add ¼ cup vinegar, thyme and bay leaf. Cover and steam until the mussels open, 5 to 10 minutes. Drain.
2. Empty the warm mussels into a large serving dish or mixing bowl. Toss with the remaining ingredients, including the remaining ¼ cup of vinegar and pepper to taste.
YIELD
12 or more servings