Featured Recipe
Macaroni & Beef Casserole

Browse Recipes by Category
Enjoy your favorite recipe with wines selected by Jacques Franey, Pierre's son. Contact Domaine Franey.
Shrimp Salad with Feta Cheese
We found that Mandarin oranges and/or any kind of soft lettuce works with this salad.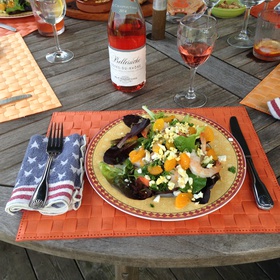 INGREDIENTS
1 bunch watercress, washed and dried
2 cups orange sections
36 cooked shrimp, shelled and deveined
1 1/2 cups thinly sliced red onion
3 hard-boiled eggs, quartered
3/4 cup crumbled feta cheese
1/4 cup fresh cilantro leaves
1 tablespoon Dijon mustard
3 tablespoons fresh lemon juice
2 tablespoons red wine vinegar
1 tablespoon finely chopped garlic
6 tablespoons olive oil
Tabasco sauce to taste
Salt and freshly ground black pepper to taste
PREPARATION
1. Distribute the watercress evenly over the center of 6 plates. Arrange equal amounts of orange sections in a fan pattern around each dish. Place 6 shrimp on each plate between the orange sections, forming a decorative pattern. Distribute the onion slices over the plate in concentric circles. Place the quartered eggs over the onions.
2. Sprinkle the feta cheese over everything. Garnish with cilantro leaves.
3. Combine the remaining ingredients in a jar and shake well. Pour the dressing over the salads and serve. (The dressing can mixed with a whisk, but I find a jar more effective.)
YIELD
6 servings