Featured Recipe
Macaroni & Beef Casserole

Browse Recipes by Category
Enjoy your favorite recipe with wines selected by Jacques Franey, Pierre's son. Contact Domaine Franey.
Shrimp Margarita
This is the very first recipe that appeared in the "60-Minute Gourmet" column in The New York Times in November 1976. The dish was called "Crevettes Margarita" and it introduced readers to the idea that it was possible to make an easy and delicious meal in a short amount of time. The popular column, which was syndicated in newspapers throughout the U.S., went on for 17 more years. Suggested update to recipe: Sprinkle a bit of Tajin, a chili/lime seasoning, before serving. It "pops out" the flavors in the dish. Also, light cream can be substituted for the heavy cream. Or use only 1/2 cup of heavy cream.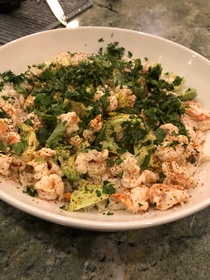 INGREDIENTS
3/4 pound (about 20) raw shrimp
1/4 cup lime juice
Salt and freshly ground pepper to taste
1 small, ripe, unblemished avocado
2 tablespoons butter
1 tablespoon finely chopped shallots
1/4 cup tequila
3/4 cup heavy cream
1 tablespoon finely chopped cilantro
PREPARATION
1. Shell and devein shrimp and "butterfly" them; that is, split them partly down the back and flatten lightly. Place the shrimp in a bowl and add the lime juice, salt and pepper. Let stand briefly until ready to cook.
2. Peel the avocado and cut it into half-inch thick slices. Discard the pit. Use as soon as possible or the flesh will discolor.
3. Heat the butter in a skillet and when it is quite hot but not smoking, add the shrimp (without the marinade), stirring rapidly, and cook about 2 minutes. Sprinkle with shallots and cook, stirring about 10 seconds. Add the tequila. Take care, for the tequila may flare up. Add the cream and cook over high heat about 1 minute. Add salt and pepper to taste. Add the avocado and cook just until the slices are piping hot, no longer. Using a slotted spoon, transfer the shrimp and avocado pieces to hot serving dishes.
5. Bring the sauce to a full rolling boil for about 30 seconds and add the chopped cilantro. Spoon the sauce over the shrimp and avocado. Serve with rice.
YIELD
4 servings