Featured Recipe
Macaroni & Beef Casserole

Browse Recipes by Category
Enjoy your favorite recipe with wines selected by Jacques Franey, Pierre's son. Contact Domaine Franey.
Light Orange Soufflé
This is a low-fat soufflé because it uses no egg yolks in the base. The chocolate sauce, however, does add some fat. Any chef will tell you that egg whites are best whipped by hand in a copper bowl to get that light and airy quality as well as greater volume; however, a hand mixer and a stand mixer work well for this recipe. These recipes appear in Pierre Franey Cooks with Friends by Pierre Franey and his daughter, Claudia Franey Jensen. The book is a companion to the public television series by the same name. The chef who prepared this soufflé was Gary Danko (now of San Francisco's Gary Danko Restaurant), who was in Europe when Pierre and Claudia were researching the book.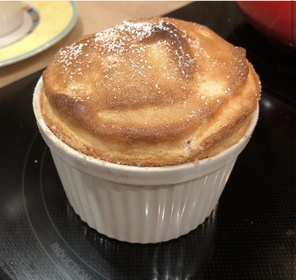 INGREDIENTS
THE SOUFFLE
¼ cup granulated sugar
½ cup good quality, chunky orange marmalade
1 tablespoon Grand Marnier
4 large egg whites
Confectioners' sugar
WARM CHOCOLATE SAUCE
2 tablespoons unsweetened cocoa powder
2 tablespoons sugar
4 ounces semisweet chocolate, broken into pieces
1 tablespoon Grand Marnier
PREPARATION
THE SOUFFLE
1. Preheat oven to 400 degrees Fahrenheit.
2. Spray four 1-cup soufflé molds with vegetable cooking spray, or brush with 1 tablespoon melted butter. Dust with granulated sugar, removing excess sugar, and set aside in a cool place.
3. Place marmalade in a large mixing bowl. Using a wire whisk, combine with the Grand Marnier.
4. Beat the egg whites in a large, very clean copper bowl with a balloon whisk until they form soft peaks.
5. Fold the whites into the marmalade mixture, blending well. Spoon into the prepared molds and level with a spatula. Make a channel around the edge of the molds using a thumb.
6. Bake for 8-10 minutes. Sprinkle with confectioners' sugar and serve immediately with the chocolate sauce. To serve, make a hole in the center of the soufflé and pour in as much sauce as desired.
WARM CHOCOLATE SAUCE
1. In a medium saucepan over medium heat, combine the cocoa powder, ¾ cup water, and the sugar. Bring to a boil.
2. Remove from the heat and add the chocolate and Grand Marnier. Stir until melted. Serve warm.
YIELD
4 Servings