Featured Recipe
Macaroni & Beef Casserole

Browse Recipes by Category
Enjoy your favorite recipe with wines selected by Jacques Franey, Pierre's son. Contact Domaine Franey.
Leek and Potato Soup
A perfect soup for a cold wintery evening, Potage Bonne Femme (as it is known in France) is a true comfort food as its delicious aromas waft through your kitchen. Served cold, it becomes Vichyssoise, a class French summer soup. Note: Try puréeing 2/3 of the soup and adding it back to the pot with the leek slices and potato cubes. If you prefer not to use milk or cream, substitute chicken broth.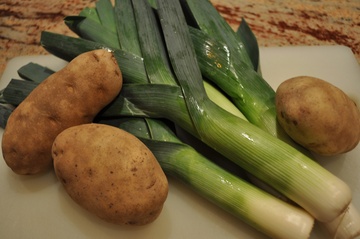 INGREDIENTS
2 large leeks
1¼ pounds Idaho potatoes
3 tablespoons butter
4 cups fresh or canned chicken broth
4 cups water
Salt and freshly ground pepper
½ cup milk or heavy cream
Tabasco to taste, optional
2 tablespoons butter, optional
PREPARATION
1. Trim off the root ends at the very base of the leeks. Cut off the tops of the leeks crosswise at the center. Remove the bruised outside leaves. Split lengthwise, inserting a knife about 1 inch from the base. Give it a 1/4 turn and make another lengthwise cut. This allows the leaves to be opened up. Drop the leeks into a basin of cold water and let stand until ready to use.
2. Peel the potatoes. Cut them into thin slices. Cut the slices into small squares. There should be about 4 cups. Soak the potatoes in cold water as they stand.
3. Shake and rinse the leeks to make certain they are cleared of inner dirt or sand. Cut them into fine, crosswise slices, about 4 cups.
4. Melt the butter in a kettle or large saucepan and add the leeks. Cook for about 5 minutes, stirring often. Do not brown. Add the chicken broth, water, salt and pepper to taste. Drain the potatoes and add them to the soup. Bring to a boil and simmer for about 45 minutes. Add the milk and, if desired, a dash of Tabasco and more salt and pepper to taste. Swirl in the butter.
YIELD
8 to 10 servings