Featured Recipe
Macaroni & Beef Casserole

Browse Recipes by Category
Enjoy your favorite recipe with wines selected by Jacques Franey, Pierre's son. Contact Domaine Franey.
Sole Fillets with Sesame Seeds
This is a quick, low-fat recipe. Instead of dipping the fillets in whole eggs, Pierre uses egg whites to cut down on the fat. The sesame seeds add a nice toasted flavor to the fish; be careful not to burn them.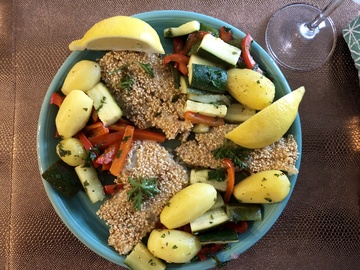 INGREDIENTS
2 large eggs, separated
Dash of Tabasco sauce
Salt and freshly ground white pepper, to taste
1 cup sesame seeds
8 skinless fillets of sole, fluke, or flounder (about 3 ounces each)
3 tablespoons olive oil
See Potatoes with Zucchini and Red Bell Pepper
4 sprigs parsley, for garnish
4 lemon wedges
PREPARATION
1. Beat the egg whites briefly with wire whisk, adding 2 tablespoons water, the Tabasco, and salt and pepper.
2. Place the sesame seeds in a large, flat dish. Dip the fillets one at a time in the egg mixture to coat well. Remove any excess, then pat both sides of the fillets with sesame seeds, making certain the seeds adhere.
3. Heat the oil in a large nonstick skillet over medium-high heat. Add enough fillets to make one layer without overlapping. Cook until golden brown on one side, 1-1/2 to 2 minutes. Turn and cook about 1-1/2 minutes on the second side. The cooking time will depend on the thickness of the fish. As the fillets are cooked, transfer them to a warm platter. Continue cooking until the fillets are done.
YIELD
4 servings