Featured Recipe
Macaroni & Beef Casserole

Browse Recipes by Category
Enjoy your favorite recipe with wines selected by Jacques Franey, Pierre's son. Contact Domaine Franey.
Pork Burgers Asian Style
One of our family favorites, the ginger, cilantro, soy sauce and garlic give these burgers an Asian flair.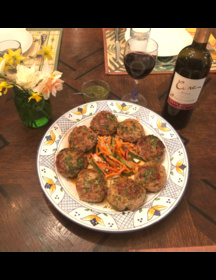 INGREDIENTS
1 ½ pounds lean ground pork
½ cup chopped onion
3 tablespoons freshly chopped cilantro
1 tablespoon freshly grated ginger
2 tablespoons light soy sauce
2 teaspoons finely chopped garlic
½ cup fresh bread crumbs
¼ cup fresh or canned chicken broth
Salt and freshly ground black pepper to taste
¼ teaspoon Tabasco
1 teaspoon vegetable oil
½ cup fresh orange juice
2 tablespoons fresh lemon juice
2 tablespoons butter
PREPARATION
1. Place the pork in a mixing bowl and add the onion, 2 tablespoons of the cilantro, ginger, 1 tablespoon of the soy sauce, garlic, bread crumbs, broth, salt, pepper, and Tabasco. Blend well.
2. Divide the mixture into 8 equal portions and form them into hamburger shapes about 1 inch thick. Heat the oil in a large pan (cast iron is best) over medium heat. Add the burgers and cook for 7 to 8 minutes. Turn over burgers and cook another 7 to 8 minutes or until done. Transfer them to a serving plate and keep warm.
3. In a small saucepan, combine the orange and lemon juices and remaining soy sauce (1 tablespoon). Reduce by half. Add butter and remaining cilantro (1 tablespoon). Blend well and pour over burgers.
YIELD
4 servings