Featured Recipe
Macaroni & Beef Casserole

Browse Recipes by Category
Enjoy your favorite recipe with wines selected by Jacques Franey, Pierre's son. Contact Domaine Franey.
Brochettes of Salmon with Bacon
During the summer, Pierre frequently cooked this recipe for family and friends at his beach house in East Hampton, NY. Dill is abundant during this time of year but if unavailable, parsley or cilantro can be substituted. Serve with your favorite cooked grain such as quinoa, barley or rice.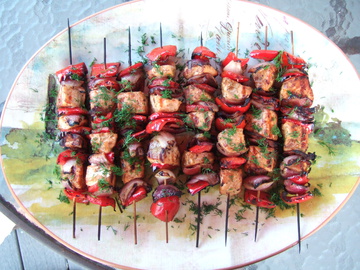 INGREDIENTS
1 ½ pounds skinless, boneless, salmon fillets
Salt and freshly ground pepper, to taste
2 teaspoons ground cumin
2 large red sweet peppers
4 slices bacon
1 red onion
1 tablespoon olive oil
3 tablespoons butter
1 tablespoon lemon juice
3 tablespoons chopped fresh dill
PREPARATION
1. Preheat an outdoor grill or broiler. Soak 8 wooden skewers in cold water until ready to use.
2. Cut the salmon into 2-inch cubes. Sprinkle the pieces with salt, pepper and cumin.
3. Cut away and discard the pepper core, veins and seeds. Cut the peppers into 2-inch squares.
4. Cut each slice of bacon into 4 pieces.
5. Cut the onion into 2-inch cubes. Put any remaining smaller pieces to another use.
6. Heat a nonstick skillet and add bacon pieces in one layer. Cook, turning over until pieces are slightly crispy. Drain on paper towels. Pour off fat leaving one tablespoon in skillet.
7. Scatter the pepper and onion cubes in skillet and cook shaking and stirring the pieces for three minutes or until al dente.
8. Beginning and ending with the red pepper, arrange salmon, onion, bacon and remaining red peppers evenly onto skewers. Brush the brochettes all over with the olive oil and sprinkle with salt and pepper.
9. If the brochettes are cooked under the broiler, arrange them on a rack about 4 inches from the heat; leave the door slightly ajar. Cook 3-5 minutes on one side and turn the brochettes. Cook 2-3 minutes. If the brochettes are cooked on a grill, place them on the grill and cook 3-5 minutes. Turn and cook on the other side about 2-3 minutes. Cooking time depends on how well done you prefer your salmon.
10. Meanwhile, heat the butter and add the lemon juice and dill. Stir and brush the sauce over the brochettes.
Note: Cooked bacon can also be crumbled and served on top of the grilled brochettes.
YIELD
4 servings