Featured Recipe
Macaroni & Beef Casserole

Browse Recipes by Category
Enjoy your favorite recipe with wines selected by Jacques Franey, Pierre's son. Contact Domaine Franey.
Shrimp with Avocado and Sweet Red Pepper
A colorful, quick-to-cook recipe that can be prepped ahead of time and ready-to-go when you're ready to start cooking.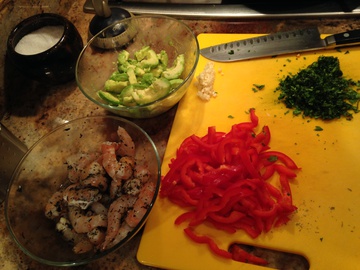 INGREDIENTS
1 ½ pounds large shrimp, shelled and deveined
4 tablespoons fresh lime juice
2 tablespoons freshly chopped oregano or 2 teaspoons dried
1/8 teaspoon hot red pepper flakes
Salt and freshly ground pepper to taste
2 small ripe avocados
2 tablespoons butter
2 tablespoons olive oil
1 sweet red pepper, cored, seeded and cut into ¼" wide slices
1 tablespoon finely chopped garlic
4 tablespoons chopped fresh cilantro or basil
PREPARATION
1. In a mixing bowl combine the shrimp, 3 tablespoons of the lime juice, oregano, pepper flakes, and salt and pepper to taste. Blend well, cover with plastic wrap and let stand for 30 minutes or longer.
2. Peel the avocados and remove the pits. Cut the flesh into ½" thick slices. Place in a small bowl, adding remaining tablespoon of lime juice and mix gently so the flesh does not discolor.
3. Melt the butter and olive oil in a large nonstick skillet or frying pan over high heat. Add the red pepper, cook and stir for 30 seconds. Add the shrimp and the marinade. Cook, stirring, for about 2 minutes. Add the avocado and garlic. Cook and stir for 1 minute. Do not overcook. Add the cilantro and blend well. Serve immediately over
Pierre's Baked Rice
.
YIELD
4 servings