Featured Recipe
Macaroni & Beef Casserole

Browse Recipes by Category
Enjoy your favorite recipe with wines selected by Jacques Franey, Pierre's son. Contact Domaine Franey.
Mussels with Saffron Cream
Consider using light cream instead of heavy cream if you are concerned about calorie intake. Serve this with a crusty bread on the side for dipping into the cream sauce.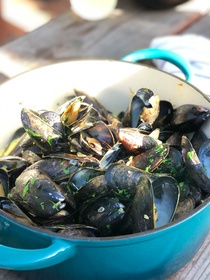 INGREDIENTS
2 tablespoons unsalted butter
4 tablespoons finely chopped shallots
4 tablespoons finely chopped onions
6 tablespoons finely chopped fresh parsley leaves
1 teaspoon saffron threads
5 pounds os mussels, well scrubbed and cleaned
2 thyme sprigs, or 1/2 teaspoon dried thyme
1 cup dry white wine
salt and freshly ground pepper to taste
1 cup heavy cream
3 tablespoons Ricard or Pernod
PREPARATION
1. Melt the butter in a large, deep saucepan. Add the shallots, onion, 4 tablespoons of the parsley and the saffron. Stir over medium heat for 1 minute.
2. Add the mussels, thyme, wine, salt and pepper. Cover, return to a boil, and cook over high heat, shaking and tossing the mussels, for about 5-6 minutes, or until all the mussels have opened. Stir in the Ricard.
3. Serve in hot soup plates, sprinkle with the remaining parsley.
YIELD
6 servings