Featured Recipe
Macaroni & Beef Casserole

Browse Recipes by Category
Enjoy your favorite recipe with wines selected by Jacques Franey, Pierre's son. Contact Domaine Franey.
Broiled Bluefish with Capers and Onions
Not everyone likes bluefish, but when it is freshly caught, it's terrific! Claudia changed this classic recipe by using only 1/4 cup of capers and adding a cup of orange cherry tomatoes sliced in half. Worked quite well.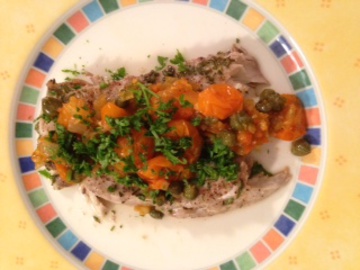 INGREDIENTS
6 boneless bluefish fillets with skin or skinless (about ⅓ pound each)
Salt and freshly ground black pepper
5 tablespoons olive oil
2 teaspoons chopped fresh rosemary leaves
2 cups onion cut into ¼-inch cubes
1 teaspoon finely chopped garlic
½ cup drained capers
2 tablespoons white vinegar
4 tablespoons chopped fresh parsley leaves
PREPARATION
1. Preheat the broiler to high (500 degrees).
2. Put the bluefish fillets on a flat dish and sprinkle them with salt and pepper, 3 tablespoons of the olive oil, and the rosemary. Set aside.
3. Heat the remaining oil in a saucepan over high heat and sauté the onion until it is wilted. Add the garlic and salt and pepper and cook, stirring occasionally, until the onion is soft and golden. Stir in the capers and cook for 2 minutes. Sprinkle the vinegar over the onion, stir well, and remove the pan from the heat.
4. Put the bluefish fillets skin side up under the broiler and cook for about 3 minutes. Carefully flip the fillets and cook for another 4 minutes, or until the fish is cooked through.
5. Transfer the fillets to warm serving plates and spoon equal portions of the onion-caper sauce over them. Sprinkle with parsley and serve immediately.
YIELD
6 servings