Featured Recipe
Macaroni & Beef Casserole

Browse Recipes by Category
Enjoy your favorite recipe with wines selected by Jacques Franey, Pierre's son. Contact Domaine Franey.
Linguini with Scallops and Broccoli
If bay scallops are used, leave them whole. If sea scallops are used, cut them in half. We recently made this recipe without the mushrooms and it was still delicious!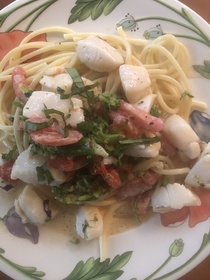 INGREDIENTS
1 bunch broccoli, about 3/4 pound
2 tomatoes (about 1 pound), peeled
1 pound mushrooms
2 tablespoons olive oil
1/4 cup finely chopped shallots
1/4 to 1/2 teaspoon red pepper flakes to taste
Salt and freshly ground pepper to taste
3/4 cup heavy cream
9 ounces linguini or other pasta, fresh or dried
2 tablespoons butter (optional)
1/4 cup coarsely chopped basil or finely chopped parsley
PREPARATION
1. Cut the broccoli into florets. Peel the stems and cut lengthwise into quarters. There should be about 4 cups of florets and stems. Drop the broccoli in boiling salted water and, when the water returns to a boil, cook until al dente. Drain. Optional: Reserve the boiling water for cooking the pasta.
2. Cut away the outer thick portion of the tomatoes and cut the pieces into lengthwise strips, each about 1/2 inch thick. There should be about 2 cups. Chop the inner portion of the tomatoes with their seeds. There should be about 3/4 cup.
3. Cut the mushrooms into thin slices. There should be about 3 cups.
4. Heat the olive oil in a skillet and add the mushrooms. Cook, stirring, about 3 minutes. Add the shallots and stir.
5. Add the chopped inner portion of the tomatoes, the pepper flakes, salt, and pepper. Cook, stirring for about 1 minute. Add the cream. Bring to a boil and add the scallops. Cook 30 seconds and add the broccoli. Add the tomato strips and stir.
6. Meanwhile, add the pasta to the boiling water and cook to desired degree of doneness. Drain and return to the kettle in which it was cooked. Pour the scallop and broccoli sauce over the pasta. Add the butter and basil and blend gently but thoroughly. Serve immediately.
YIELD
4 or more servings