Featured Recipe
Macaroni & Beef Casserole

Browse Recipes by Category
Enjoy your favorite recipe with wines selected by Jacques Franey, Pierre's son. Contact Domaine Franey.
Baked Clams with Pine Nuts
Cherrystone or littleneck clams go best with this recipe. We prefer using larger clams and saving the smaller ones for eating raw on the half shell. Checkout youtube.com for some good instructional videos on how to open clams.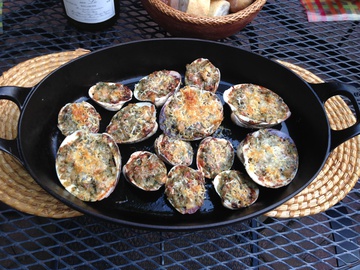 INGREDIENTS
36 cherrystone or littleneck clams
1/4 pound unsalted butter at room temperature
4 tablespoons finely chopped shallots
1 tablespoon finely chopped garlic
1/2 cup finely chopped fresh parsley leaves
1/2 cup pine nuts, toasted
1 1/2 cups fresh bread crumbs
Salt to taste
1/2 teaspoon freshly ground black pepper
1/2 cup freshly grated Parmesan or Gruyere cheese
PREPARATION
1. Preheat oven to 450 degrees.
2. Open the clams and remove the meat, reserving 1/2 cup of the liquid. Put aside the bottom shell of each clam for stuffing. Chop the clam meat coarsely.
3. In a mixing bowl, combine the clams and the reserved liquid with the butter, shallots, garlic, parsley, pine nuts, bread crumbs and salt and pepper. Blend well.
4. Stuff the reserved clams shells with the mixture. Smooth over the tops with a spatula and sprinkle with the grated cheese. Arrange the clams in a shallow baking dish. Bake for 15 minutes or until lightly browned.
YIELD
6 servings