Featured Recipe
Macaroni & Beef Casserole

Browse Recipes by Category
Enjoy your favorite recipe with wines selected by Jacques Franey, Pierre's son. Contact Domaine Franey.
French Plum Tart
This is a truly simple tart to prepare with children; everything about it is enjoyable, from the preparation of the dough, to forming the crust and, finally, the eating. As an option, consider scattering fresh blueberries between the halved plums, as in the photo below.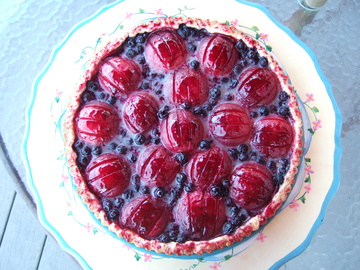 INGREDIENTS
1 ½ cups plus 2 tablespoons all-purpose flour
10 tablespoons of cold butter, cut into small pieces
3 tablespoons of cold water
6 tablespoons sugar
2 ½ pounds of fresh plums
PREPARATION
1. Combine the 1 ½ cups flour, 8 tablespoons of the butter, the water and 1 tablespoon of the sugar in the container of a food processor and blend until the mixture forms a ball, in perhaps 30 seconds.
2. Using a floured rolling pin, roll out the dough into a round 13 inches in diameter and ¼ inch thick.
3. Pick up the dough by rolling it onto the pin. Then unroll it over a 10 ½ inch black tart pan with a removable bottom. Press the dough gently into the pan, gathering it toward the wall of the pan to thicken the side of the shell. Trim off the excess dough. Place the pan in the refrigerator for 10 to 15 minutes to allow the dough to relax.
4. Preheat oven to 375 degrees F.
5. Split the plums in half and remove the pits. With a paring knife score each half 3 times.
6. Blend the remaining 2 tablespoons flour with 2 tablespoons of the sugar. Sprinkle the tart shell evenly with the flour and sugar mixture. Place the halved plums, skin side up, in the shell, forming a circular pattern. Sprinkle the plums with the remaining 3 tablespoons sugar and dot the remaining 2 tablespoons butter, cut into small pieces, over all.
7. Place the tart pan on a baking sheet and bake on the bottom rack of the oven for about 45 minutes or until done.
YIELD
8 servings