Featured Recipe
Macaroni & Beef Casserole

Browse Recipes by Category
Enjoy your favorite recipe with wines selected by Jacques Franey, Pierre's son. Contact Domaine Franey.
Onion Soup au Gratin
A winter soup that is served in individual crocks.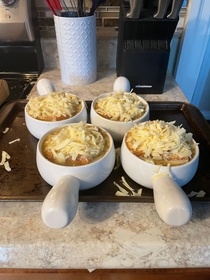 INGREDIENTS
3 tablespoons butter
6½ cups sliced onions
1 tablespoon chopped garlic
3 tablespoons flour
4 cups chicken stock
½ cup dry white wine
2 cups water
1 bay leaf
Salt and freshly ground pepper to taste
6 thin slices French bread, toasted
¼ cup grated Swiss or Gruyère cheese
PREPARATION
1. Heat the butter in a deep saucepan and, at high flame, brown the onions and garlic, stirring often. Sprinkle the flour over the mixture and cook, several minutes longer until flour begins to brown.
2. Add the stock, wine, water, bay leaf, salt and pepper. Bring to a boil and then simmer for 20 minutes, skimming off foam occasionally.
3. Ladle the soup into 6 individual crocks placed on a baking sheet. Float a slice of toasted bread on top and sprinkle liberally with cheese.
4. Bake in a 425-degree oven for 15 minutes.
YIELD
6 servings