Featured Recipe
Macaroni & Beef Casserole

Browse Recipes by Category
Enjoy your favorite recipe with wines selected by Jacques Franey, Pierre's son. Contact Domaine Franey.
Roasted Rack of Lamb with Herbs
An American rack of lamb, trimmed, generally weighs between 7 and 8 pounds, enough for 4 people. Rack of lambs from New Zealand are smaller and may only feed 2-3 people. When buying rack of lamb, make sure it is well trimmed of fat and that the backbone has been removed.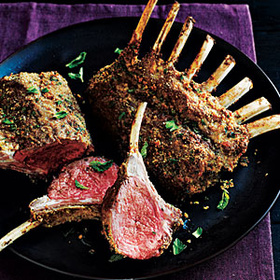 INGREDIENTS
2 racks of lamb with the shinbones (the flat continuous bone on top of the ribs) and fat removed
Salt and freshly ground pepper to taste
2 tablespoons olive oil
½ cup fine fresh bread crumbs
2 tablespoons chopped parsley
2 teaspoons finely chopped garlic
2 tablespoons finely chopped shallots
2 teaspoons chopped fresh thyme leaves or 1 teaspoon dried
2 tablespoons melted butter
2 tablespoons dry white wine
⅓ cup fresh or canned chicken broth.
PREPARATION
1. Preheat the oven to 500 degrees or more.
2. If necessary, remove the top thick layer of fat from the rack. The loins and the rib should be almost clean of fat. Hack off the ends of the rib bones, leaving about 2 inches of the ribs intact. Sprinkle with salt and pepper.
3. The baking pan should be large enough to hold the racks in one layer side by side. Place the racks, meat side down, in the pan and brush with 1 tablespoon olive oil.
4. Meanwhile, combine the bread crumbs, parsley, garlic, shallots, fresh thyme, and 1 tablespoon of olive oil in a bowl. Set aside.
5. Place the pan with the lamb on the bottom rack of the oven. Cook for 15 minutes, turning and basting occasionally.
6. Remove from the oven and sprinkle the meaty side of the ribs with the bread mixture. Place in the oven and bake for 8 to 10 minutes for medium-rare. The bread crumb mixture should be lightly browned. Remove the racks onto a platter and keep warm.
7. Remove any melted fat from the pan. If there is any bread crumb mixture in the pan, leave it. Add the white wine and the broth. Place the pan on top of the stove bring to boil, scraping the bottom to remove the brown particles from the pan. Add any juices that accumulate around the racks. Bring to a simmer and cook for 2 to 3 minutes. Serve with the carved racks.
YIELD
6-8 servings