Featured Recipe
Macaroni & Beef Casserole

Browse Recipes by Category
Enjoy your favorite recipe with wines selected by Jacques Franey, Pierre's son. Contact Domaine Franey.
Steak à la Moutarde de Meaux
Steak benefits from a sharp sauce. Here, Pierre chose Moutarde de Meaux, a unique French whole grain mustard of exceptional quality that comes in an earthenware crock sealed with red wax. It is available in upscale markets but can be expensive (a Dijon-style mustard may be substituted). The cut of meat suggested is known around much of the country as a New York strip, which is simply a boneless cut of sirloin. It can be made very lean by slicing away the strip of fat on the rim. Other cuts of steak work well, too.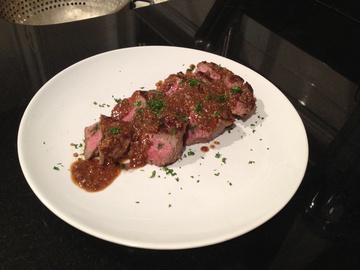 INGREDIENTS
4 New York-cut boneless sirloin steaks, without fat, about ½ pound each
½ teaspoon salt
Freshly ground black pepper
1 tablespoons butter
2 tablespoons finely chopped shallots
2 tablespoons Cognac
¼ cup chicken stock
3 tablespoons moutarde de Meaux or Dijon mustard
2 tablespoons chopped fresh parsley leaves
PREPARATION
1. Heat a 10-inch black iron skillet (a pan that is too large will have bare spots that cause the liquid to evaporate too quickly). Sprinkle the steaks with salt and pepper. When the pan is very hot, place the steaks in it and sear the meat for 4 minutes. Turn the steaks and cook for 4 or 5 minutes longer, or until they reach the desired degree of doneness.
2. Remove the steaks to a serving platter and keep them warm. Pour off all the fat in the pan. Melt the butter in the pan and add the shallots and stir. Add the Cognac (it may ignite, which is fine).
3. Add the stock. Over high heat, add the mustard. Pour in any liquid that has accumulated around the steaks. With a whisk, blend the sauce well and spoon it over the steaks. Garnish with parsley. Alternatively, slice the steak, place on a serving platter, spoon sauce over and garnish with the parsley. Suggested accompaniments:
purée of celery root
and
glazed carrots
.
YIELD
4 servings