Featured Recipe
Macaroni & Beef Casserole

Browse Recipes by Category
Enjoy your favorite recipe with wines selected by Jacques Franey, Pierre's son. Contact Domaine Franey.
Basque Fish Stew
Pierre prepared this dish while visiting Juan-Mari Arzak and his daughter, Elena, in their restaurant, Arzak, in San Sebastian, Spain in 1996. This recipe can be made in advance. including the Apple Aïoli and Garlic Croutons. Clean and prepare the seafood and make the base with the vegetables, but add the seafood just before serving so you don't overcook it. Serve Aioli and Croutons in separate bowls for dinner guests to help themselves.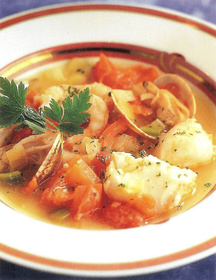 INGREDIENTS
1 pound skinless striped bass or monkfish fillets
1 pound skinless red snapper fillets, or any other white-fleshed firm fish
½ pound raw medium shrimp
1 pound mussels or clams
2 tablespoons olive oil
1-1/2 cups finely chopped onion
1 cup finely diced celery
1 cup finely diced green bell pepper
1 cup dry white wine
3 cups canned crushed tomatoes
1 bay leaf
2 sprigs fresh thyme, or ½ teaspoon dried
¼ teaspoon hot red pepper flakes
Salt and freshly ground pepper, to taste
1 tablespoon finely chopped garlic
¼ cup finely chopped flat-leaf parsley
PREPARATION
1. Cut the fish into 1 ½-inch cubes and set aside. Shell and devein the shrimp and set aside. Scrub the mussels well, remove the beards, and set aside.
2. Heat the olive oil in a large, deep pot over medium-high heat, add the onion, and cook, stirring, until wilted. Add the celery and green pepper, and cook, stirring, about 5 minutes. Raise the heat and cook down the liquid about 1 minute, then add the wine, tomatoes, bay leaf, thyme, red pepper flakes, salt, and pepper. Bring to a boil, then reduce heat and simmer for 12 minutes.
3. Add the fish cubes and mussels or clams to the pot, blend well, and cook over high heat for 3 minutes. Add the shrimp, immersing them in the sauce, and let cook for 1 minute. Sprinkle with garlic and parsley, stir, and simmer about 3 minutes longer.
4. Serve with
Apple Aïoli
and
Garlic Croutons
.
YIELD
Yield: 4-6 servings