Featured Recipe
Macaroni & Beef Casserole

Browse Recipes by Category
Enjoy your favorite recipe with wines selected by Jacques Franey, Pierre's son. Contact Domaine Franey.
Southern-style Crab Cakes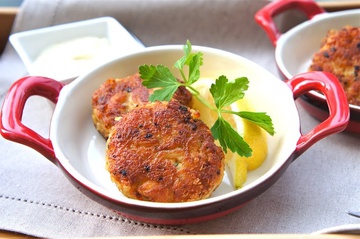 INGREDIENTS
2 cups fine fresh bread crumbs
2 large eggs, well beaten
1 tablespoon Dijon mustard
1 teaspoon Worcestershire sauce
3 tablespoons finely chopped fresh parsley leaves
½ cup finely chopped scallions
1 teaspoon Old Bay Seasoning
Salt and freshly ground pepper to taste
1 pound lump crab meat, shell and cartilage removed
4 tablespoons vegetable, peanut, or corn oil
½ cup
Homemade Mayonnaise
Lemon wedges
PREPARATION
1. In a large mixing bowl, combine 1 ½ cups of the bread crumbs with the eggs, mustard, Worcestershire sauce, parsley, scallions, and the Old Bay Seasoning. Season with salt and lots of pepper. Blend well and add the crab meat. Fold it in lightly without breaking up the lumps of crab.
2. Divide the mixture into 12 portions. Shape them in hamburger-like patties.
3. Coat each portion with the remaining bread crumbs. Refrigerate until ready to cook.
4. Heat 2 tablespoons of the oil in a nonstick frying pan over medium heat. Fry the patties, 4 or 5 at a time, for about 2 to 2 ½ minutes on each side, or until golden brown. Drain on paper towels and serve immediately. Use the remaining 2 tablespoons of cooking oil if necessary. Serve with the
Homemade Mayonnaise
and lemon wedges.
YIELD
12 crab cakes; serves 4 to 6