Featured Recipe
Macaroni & Beef Casserole

Browse Recipes by Category
Enjoy your favorite recipe with wines selected by Jacques Franey, Pierre's son. Contact Domaine Franey.
Apple-Sausage Stuffing
This is a nice accompaniment with a Roast Breast of Turkey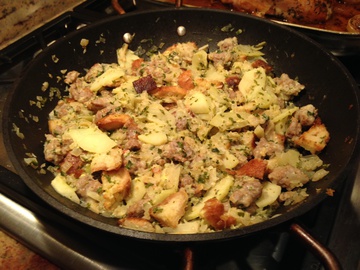 INGREDIENTS
2 apples (preferably Granny Smith), about 1 pound
½ pound ground sausage meat
2 cups finely chopped onions
1 teaspoon finely minced garlic
2 cups cubed bread, toasted
Salt and freshly ground pepper to taste
2 teaspoons finely chopped fresh sage
1 cup fresh or canned chicken broth
½ cup finely chopped parsley
2 tablespoons butter
1 egg, well beaten
PREPARATION
1. Peel the apples and remove and discard the stems and cores. Cut the apples into quarters. Cut the apple quarters crosswise into very thin slices. There should be about 3 cups.
2. Place the sausage in a skillet over medium high heat and cook, breaking up any lumps, until the meat has lost its raw look, about 5 minutes.
3. Add the onions and garlic and cook, stirring, until wilted.
4. Add the apples to the skillet and stir. Add the toasted bread cubes, salt, pepper, sage, broth, and parsley. Add the butter and egg and blend well. Cover and cook over low heat about 10 minutes. Remove from the heat and keep warm until serving.
YIELD
6 to 8 servings