Featured Recipe
Macaroni & Beef Casserole

Browse Recipes by Category
Enjoy your favorite recipe with wines selected by Jacques Franey, Pierre's son. Contact Domaine Franey.
Veal Marengo
The original version of this classic French dish was created on June 14, 1800 after a celebrated battle between Napoleon Bonaparte's troops and those of Austria near the village of Marengo in northern Italy. After the battle was won, Napoleon was famished and asked his chef to scurry up a meal and the result was Veal Marengo. The original dish has long since been altered. The dish on which Napoleon dined contained, among other things, a fried egg and crawfish.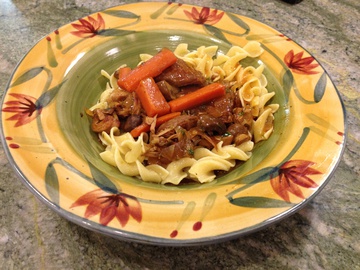 INGREDIENTS
4 pounds lean veal cut into 2-inch cubes for stew
Salt & freshly ground pepper to taste
¼ cup peanut, vegetable, or corn oil
½ cup water
1 cup chopped onion
1 teaspoon finely chopped garlic
1 cup diced carrots
1 bay leaf
½ teaspoon thyme
¼ cup tomato paste
1 cup plus 2 tablespoons dry white wine
2 cups
veal broth
or chicken broth
2 sprigs fresh parsley
2 teaspoons arrowroot or cornstarch
½ pound mushrooms, quartered
1 tablespoon finely chopped parsley for garnish
PREPARATION
1. Preheat the oven to 350 degrees.
2. Sprinkle the pieces of veal with salt and pepper.
3. Heat the oil in a large, heavy skillet. Cook a few pieces of meat at a time. If you crowd them in the skillet, the meat will give up its juices and now brown properly. Cook over high heat.
4. As the veal is well browned, transfer it to a heated heavy casserole or Dutch oven. Continue cooking the meat until all of it is browned. It should take about fifteen minutes to brown all the cubes. Pour off the fat from the skillet. Add the water and stir to dissolve the brown particles that cling to the bottom and sides of the skillet. Set aside.
5. To the casserole, add the onion, garlic, carrots, bay leaf, and thyme. Cook briefly, stirring, and add the tomato paste, one cup of wine, and the veal broth. Add the liquid from the skillet. Stir to blend and add the parsley. Cover and place in the oven. Bake 1-¼ hours.
6. With a two-pronged fork, transfer the pieces of meat to another casserole.
7. Skim off the fat from the surface of the sauce. Put the sauce through a sieve, pressing with the back of a wooden spoon to extract as much liquid from the solids as possible. (This step is optional).
8. Pour the sauce back over the meat and bring to a boil. Blend the arrowroot and two tablespoons of wine and stir it in.
9. Cook the mushrooms in butter, stirring and shaking the skillet, about five minutes. Add them to the stew. Serve sprinkled with chopped parsley.
10. Serve with
buttered egg noodles
.
YIELD
8 servings