Featured Recipe
Macaroni & Beef Casserole

Browse Recipes by Category
Enjoy your favorite recipe with wines selected by Jacques Franey, Pierre's son. Contact Domaine Franey.
New England Codfish Cakes
These fish cakes can be served either as a first course or main course accompanied with a tartar sauce. Diane recently made them and added chives from her garden -- you may want to try adding your own green herbs as well. She also made a delicious sandwich the next day with a leftover codfish cake and her homemade tartar sauce.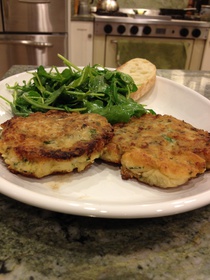 INGREDIENTS
2 pounds fresh skinless cod fillets
Salt and freshly ground pepper to taste
2 ½ pounds potatoes (Russet are best)
1 cup sliced onion
2 large eggs, well beaten
2 tablespoons Dijon mustard
1 teaspoon Worcestershire sauce
4 tablespoons finely chopped fresh parsley leaves
½ cup chopped onion
½ cup all-purpose flour
About 4 tablespoons vegetable oil
PREPARATION
1. Season the fillets well with the salt and pepper. Place them on the rack of a steamer over boiling water. Cover and steam for 7 minutes. Remove the rack and fish from the heat and let them cool.
2. Peel the potatoes and cut them into 1 1/2 inch cubes. Cover with cold water in a deep pot. Add the sliced onion, salt and pepper to taste, and bring to boil. Cook for 12 to 15 minutes, or until the potatoes are tender.
3. Drain the potatoes and onion and purée them in a food mill/ricer or mash them by hand (not in a food processor).
4. When the codfish is cool enough to handle, flake the flesh with a fork.
5. Place the potato/onion purée in a mixing bowl. Combine with the beaten eggs, mustard, Worcestershire sauce, parsley and chopped onion. Blend very well and add the fish, folding it in lightly, without overmixing. Place this mixture on a baking sheet, smooth over the top with a rubber spatula, cover with plastic wrap, and chill.
6. When the mixture is thoroughly cool, shape it into 20 hamburger-size patties. Put the flour on a flat dish and dredge the cakes in it. Shake off any excess flour.
7. Heat 2 tablespoons of the oil over medium-high heat in a large frying pan, preferably non-stick. Fry the cakes for about 2 ½ minutes on each side, or until golden brown. Use the remaining 2 tablespoons of cooking oil if necessary. Drain on paper towels and serve immediately with
Tartar Sauce
.
YIELD
20 cakes