Featured Recipe
Macaroni & Beef Casserole

Browse Recipes by Category
Enjoy your favorite recipe with wines selected by Jacques Franey, Pierre's son. Contact Domaine Franey.
Lamb Patties Moroccan Style
Pierre liked spicy harissa with lamb. It also goes well with grilled chicken. The trick to making moist, tender ground meat dishes, whether kebabs, meatballs or even hamburgers, is to bind them loosely. Ground meat that is pressed too tightly tends to be tough and dry. Couscous is an appropriate side dish for these Moroccan patties. This recipe calls for the pre-cooked grain which can be quite good if you use a flavorful broth and stir well to keep the grains fluffy. It has been enlivened with onions, garlic, yellow squash and coriander.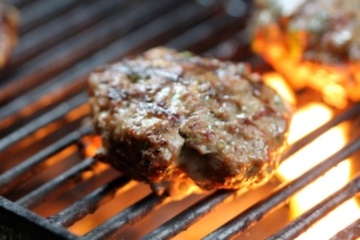 INGREDIENTS
1 ½ pounds ground lean lamb
1 teaspoon paprika
¼ teaspoon crushed dried red hot pepper flakes
¼ teaspoon freshly ground black pepper
1 teaspoon ground cumin
2 teaspoons finely chopped garlic
2 tablespoons grated onion
4 tablespoons finely chopped parsley
Salt to taste
1 tablespoon vegetable oil
Harissa Sauce
PREPARATION
1. Put the lamb in a mixing bowl and add all the ingredients except the vegetable oil and harissa sauce. Blend the mixture thoroughly by hand.
2. Shape the mixture into 8 equal-size patties similar to hamburgers.
3. Heat the oil in a nonstick pan large enough to hold all the patties. Two pans may be necessary.
4. Add the patties to the pan. Cook them over medium-high heat about 3 or 4 minutes on each side, depending on the degree of doneness desired. Drain on paper towels and serve with the
Harissa Sauce
and
Couscous with Yellow Squash
on the side.
YIELD
4 servings