Featured Recipe
Macaroni & Beef Casserole

Browse Recipes by Category
Enjoy your favorite recipe with wines selected by Jacques Franey, Pierre's son. Contact Domaine Franey.
Shrimp Greek-Style with Rigatoni
The feta in this recipe gives it a Greek feel. There are many variations on this recipe--dill is sometimes added or parsley or capers; even a dash of ouzo which provides an anise or licorice taste. We suggest an accompaniment of Green Beans and Red Onion Vinaigrette.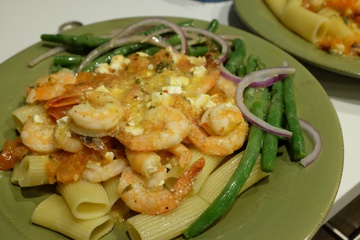 INGREDIENTS
5 tablespoons olive oil
1 teaspoon finely chopped garlic
2 cups peeled, cubed tomatoes, preferably fresh, about 1 pound whole; or canned tomatoes
1/2 cup dry white wine
Salt and freshly ground pepper to taste
1/4 cup finely chopped fresh basil leaves
1 teaspoon dried, crumbled oregano
1-1/2 pounds medium-size fresh shrimp, about 48
1/8 teaspoon hot red pepper flakes (or a bit more, if you prefer)
1/3 pound rigatoni, ziti or spirals
1/2 crumbled feta cheese
PREPARATION
1. Preheat oven to 400 degrees.
2. Heat 2 tablespoons of the oil in a skillet and add the garlic. Cook briefly (do not burn), stirring, and add the tomatoes. Cook about 1 minute and add the wine, salt and pepper. Add the basil and oregano.
3. Cook over moderate heat about 10 minutes.
4. Meanwhile, peel and devein the shrimp, leaving the last tail segment on. Sprinkle the shrimp with salt and pepper.
5. Heat the remaining 3 tablespoons of oil in a large skillet and add the shrimp. Cook quickly, just until shrimp turn red. Stir as they cook. Sprinkle with red pepper flakes.
6. Spoon the shrimp and any pan juices into a small baking dish. Sprinkle the shrimp with the crumbled feta cheese and spoon the tomato sauce over. Place the baking dish in the oven and bake 10 minutes until piping hot.
7. Meanwhile, cook the rigatoni al dente and drain. Do not overcook. Serve the hot rigatoni with the shrimp mixture spooned over.
YIELD
4 servings