Featured Recipe
Macaroni & Beef Casserole

Browse Recipes by Category
Enjoy your favorite recipe with wines selected by Jacques Franey, Pierre's son. Contact Domaine Franey.
Baked Oysters with Leeks
You can cook the oysters on a pre-heated grill in a roasting pan instead of the oven. This dish is very rich. For a lighter version, use either the leek mixture or the shallot/butter mixture, but not both.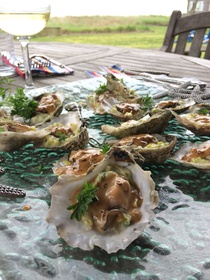 INGREDIENTS
10 tablespoons unsalted butter
3 leeks, cleaned, trimmed and cut very finely (You should have about 2 1/2 cups)
Salt and freshly ground pepper to taste
3/4 cup heavy cream
1/3 cup finely chopped shallots
1/4 cup white wine vinegar
24 oysters in the shell
Parsley sprigs for garnish
PREPARATION
1. Preheat the oven to 500 degrees F.
2. Melt 2 tablespoons of the butter in a saucepan over medium heat. Add the leeks, salt and pepper, and simmer while stirring for about 5 minutes. Add 1/2 cup of the cream and simmer for 5 minutes more, stirring occasionally. Set aside.
3. In another saucepan, combine the shallots, vinegar, and 2 Tablespoons of the butter. Cook over high heat until most of the liquid has evaporated. Add the remaining cream and bring to a boil. Stir with a whisk. Season with salt and pepper and remove from the heat.
4. Place the oysters on a baking dish and bake them for 5-7 minutes. (This is done to heat them gently and to make them easier to open.)
5. Remove the oysters from the oven and use an oyster knife to loosen the top shell. Open each oyster and discard the top shell.
6. Cut away the oyster meat, reserving the liquor in the shells, and put the meat in a bowl. Spoon an equal amount of the leek mixture into each of the reserved shells. Top each serving with an oyster. Spoon some shallot/butter sauce over the oysters and serve immediately garnished with the parsley
YIELD
4 to 6 servings