Featured Recipe
Macaroni & Beef Casserole

Browse Recipes by Category
Enjoy your favorite recipe with wines selected by Jacques Franey, Pierre's son. Contact Domaine Franey.
Salmon Cakes
This recipe has been updated using ingredients that were not readily available in the 1980s. If Tajin seasoning is difficult to find use 1 teaspoon paprika, and use parsley instead of cilantro, 1/8 teaspoon freshly grated nutmeg, and consider serving with Sauce aux Champignons.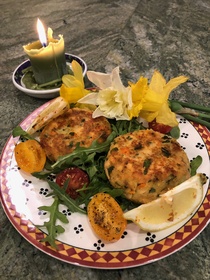 INGREDIENTS
1 1/2 pounds boneless and skinless salmon fillet
2 medium-sized carrots, steamed, cooled and coarsely chopped
2 large eggs, beaten
1 1/2 cups panko bread crumbs, plus extra for dredging
2-3 teaspoons Tajin Clasico Seasoning
Salt and pepper to taste
1/2 cup chopped scallions
4 Tablespoons chopped cilantro
2 Tablespoons oil for cooking
2 Tablespoons of butter for cooking
1 sliced lemon or lime
PREPARATION
1. Put the salmon fillets on the rack of a steamer over boiling water. Cover closely and steam for 5-7 minutes, depending on the thickness of the fish. Remove the rack from the pot and set salmon aside to cool.
2. When the salmon is cool enough to handle, flake the flesh with a fork.
3. In a mixing bowl, combine the eggs, panko bread crumbs, Tajin seasoning, salt, pepper, scallions, carrots, and cilantro. Blend well. Add salmon, folding it in lightly so as not to break up the flakes.
4. Shape the salmon mixture firmly into 8-10 patties. Place additional panko bread crumbs on a flat dish and dredge the patties in them.
5. Heat oil and butter in a large nonstick frying pan. Cook salmon cakes for about 2 1/2 minutes on each side, or until golden brown. Drain on paper towels and serve immediately with lemon/lime wedges on the side.
YIELD
8-10 salmon cakes, serves 4-5