Featured Recipe
Macaroni & Beef Casserole

Browse Recipes by Category
Enjoy your favorite recipe with wines selected by Jacques Franey, Pierre's son. Contact Domaine Franey.
Fruits de Mer au Riz
We've added this recipe at the request of 60-Minute Gourmet fan who wanted to make this recipe for her husband's birthday. Inspired by a Spanish paella, it's a bit time-consuming with all the chopping and cleaning of shellfish, but well worth the effort!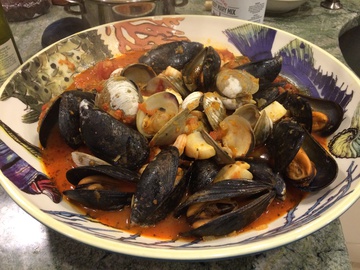 INGREDIENTS
The rice:
2 tablespoons olive oil
¼ cup finely chopped onion
¼ cup diced green pepper
1 clove garlic, finely minced
½ teaspoon loosely packed saffron threads
1 cup rice
1 ¾ cups water
Salt and freshly ground pepper to taste
The seafood:
¼ cup olive oil
1 cup finely chopped onion
2 cloves garlic, finely minced
1 hot, dried red pepper or 1/4 teaspoon red pepper flakes, optional
1 ½ cups diced, peeled, fresh or canned tomatoes
1 ½ cups dry white wine
1 teaspoon dried oregano
Salt and freshly ground pepper to taste
18 small littleneck clams, the smaller the better, rinsed well
1 ½ quarts, well-scrubbed mussels, about 6 cups
½ pound shrimp, shelled and deveined
½ pound sea scallops, halved or quartered
PREPARATION
1. To begin, prepare and measure out all the ingredients for the rice. To save time, chop an extra cup of onions and 2 extra cloves of garlic for the seafood mixture. Set these aside.
2. Heat the 2 tablespoons of oil of the rice in a saucepan and add ¼ cup of onion, green pepper, and 1 clove of garlic and cook until wilted. Add the saffron and cook about 2 minutes longer.
3. Add the rice, water, salt, and pepper and cover closely. Cook about 17 minutes or just until the rice is tender. As the rice cooks prepare the seafood. Remember that when the rice is cooked, remove if from the heat. It can stand several minutes, covered, without damage.
4. In a pot, heat the ¼ cup oil and add the 1 cup of onion and 2 cloves of garlic. Stir and cook until wilted. Add the red pepper, tomatoes, wine, and oregano. Add salt and pepper. Cover and cook about 10 minutes.
5. Add the clams and mussels to the pot and cover again. Cook about 3 minutes and add the shrimp, scallops, salt and pepper to taste. Cover and cook about 5 minutes.
6. There are several ways to serve this dish. Use a large, deep serving dish and make a border of rice with a "well" in the center. Add the shellfish with their juices to the center and serve. Or you may blend the rice and the shellfish and serve as a paella.
YIELD
4 servings