Featured Recipe
Macaroni & Beef Casserole

Browse Recipes by Category
Enjoy your favorite recipe with wines selected by Jacques Franey, Pierre's son. Contact Domaine Franey.
Sautéed Soft-shell Crabs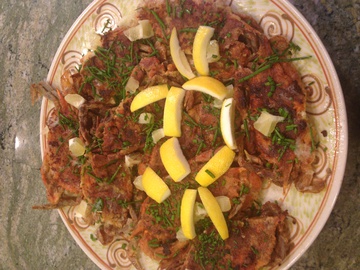 INGREDIENTS
12 cleaned soft-shell crabs
1/2 cup milk
1 cup all-purpose flour
1/8 teaspoon cayenne pepper
Salt and freshly ground black pepper to taste
4 tablespoons vegetable oil
Juice of 1 lemon
2 lemons, peeled and cut into small pieces
6 tablespoons unsalted butter
1/3 cup chopped fresh parsley leaves
PREPARATION
1. Put the crabs in a flat dish and add the milk. Turn the crabs to coat them with the milk.
2. On a flat dish, combine the flour, cayenne pepper and salt and black pepper. Remove each crab from the milk and dredge it in the seasoned flour. Shake to remove any excess flour.
3. Heat 2 tablespoons of the oil in a nonstick frying pan. Put 6 crabs in the pan and cook over medium heat for about 3 minutes, or until the crabs are golden brown on one side. Turn and cook until golden brown on the other side. The total cooking time is about 6 to 7 minutes depending on the thickness. Transfer the crabs to a warm serving platter. Repeat the process with the other 6 crabs.
4. When all 12 have been cooked, sprinkle them with the lemon juice and lemon cubes.
5. Pour off the fat from the frying pan and wipe it clean with paper towels. Add the butter and heat it unitl it starts to turn brown. Pour the butter over the crabs. Serve garnished with the chopped parsley.
YIELD
6 servings