Featured Recipe
Macaroni & Beef Casserole

Browse Recipes by Category
Enjoy your favorite recipe with wines selected by Jacques Franey, Pierre's son. Contact Domaine Franey.
Veal Chops with Vinegar Glaze
Pierre first prepared this recipe as a young apprentice cook at Drouant in Paris, where the chef at the time was Emile Domas. The restaurant, founded in 1880, is still known today as one of France's top restaurants. The recipe has been adapted to use only 1 tablespoon of butter and 1 of olive oil. The small amount of butter acts as a binder for the sauce and gives the dish a bit of the luscious butter flavor.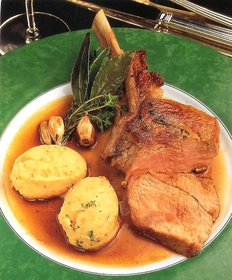 INGREDIENTS
4 loin veal chops (about ½ pound each), with most of the fat removed
Salt and freshly ground pepper, to taste
1 tablespoon olive oil
4 whole garlic cloves, peeled
2 small bay leaves
4 sprigs fresh thyme, or ½ teaspoon dried
1 tablespoon red wine vinegar
½ cup fresh chicken broth
1 tablespoon unsalted butter
2 tablespoons finely chopped parsley
PREPARATION
1. Sprinkle the chops on both sides with salt and pepper.
2. Heat the olive oil in a large nonstick skillet. Over medium-high heat, brown the chops on both sides, turning once. They should cook about 5 minutes for each side.
3. Add the garlic, bay leaves, and thyme. Cook about 3 minutes, but do not let the garlic burn.
4. Drain the fat from the skillet. Pour the vinegar around the chops and turn the heat to medium high. Add the broth, cover tightly, and cook for about 15 minutes. Uncover to see if liquid has been reduced by half. Add the butter and cook about 3 minutes more or until the sauce has a slightly thickened consistency.
5. Before serving, remove the thyme sprigs and bay leaves. The garlic cloves may be served on each plate. Sprinkle with chopped parsley leaves.
6. Serve with
Potato and Carrot Puree
(see linked recipe).
YIELD
4 servings