Featured Recipe
Macaroni & Beef Casserole

Browse Recipes by Category
Enjoy your favorite recipe with wines selected by Jacques Franey, Pierre's son. Contact Domaine Franey.
Scallops Américaine
A classic French sauce, Sauce Américaine is usually associated with lobster, but it works well with scallops, shrimp and mussels. Here, a strong dose of tarragon, brings a richness to the dish. Fresh tarragon is really a must.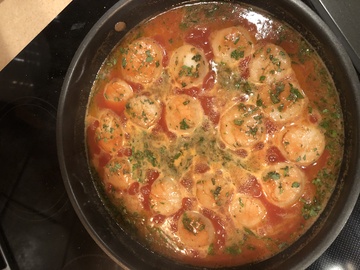 INGREDIENTS
2 tablespoons olive oil
2 tablespoons finely chopped shallots
1 tablespoon finely chopped onion
1/2 teaspoon finely minced garlic
1/2 cup dry white wine
1/4 cup coarsely chopped fresh tarragon or 1 teaspoon dry
1/2 cup fish stock or bottled clam juice
2 cups crushed canned tomatoes
1/8 teaspoon cayenne pepper
Salt and freshly ground pepper to taste
2 tablespoons butter
1-1/2 pounds medium-size sea scallops (if using large sea scallops, slice them in half lengthwise)
2 tablespoons cognac
PREPARATION
1. Heat 1 tablespoon oil in saucepan and add the shallots, onion, and garlic. Cook, stirring, until wilted. Add the wine and 1/2 the tarragon (2 tablespoons) and bring to a boil. Cook until the wine is reduced by half.
2. Add the stock, tomatoes, cayenne, and salt & pepper. Bring to a boil and simmer 5 minutes.
3. Line a saucepan with a sieve and strain the sauce through it. Stir and push to extract as much liquid as possible from the pulp and herbs. Discard the solids. There should be about 1-1/2 cups sauce.
4. Lightly salt and pepper the scallops. In a sauté pan large enough to hold the scallops in one layer, heat the remaining tablespoon oil and 1 tablespoon butter (medium-high heat) and add the scallops. Cook one minute and turn over. Add the cognac. Cook about 30 seconds and add the tomato sauce. Stir to blend and bring to a boil. Stir in the remaining 2 tablespoons tarragon and 1 tablespoon butter.
YIELD
4 servings