Featured Recipe
Macaroni & Beef Casserole

Browse Recipes by Category
Enjoy your favorite recipe with wines selected by Jacques Franey, Pierre's son. Contact Domaine Franey.
Spaghettini with Vegetables and Pepper-Vodka Sauce
This is a favorite go-to recipe in Jacques's home. Pecorino Romano can be substituted for the Parmesan cheese.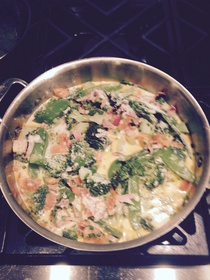 INGREDIENTS
1 bunch brocccoli, about 1 ¼ pounds
¼ pound of snow peas
5 plum tomatoes, about 1 pound
Salt to taste
¾ pound spaghettini
2 tablespoons olive oil
1 tablespoon finely chopped garlic
¼ pound sliced prosciutto, cut into ¼ inch strips
⅛ teaspoon red pepper flakes
¼ cup pepper vodka (optional)
½ cup heavy cream
Freshly ground pepper to taste
½ cup grated pecorino Romano cheese
12 basil leaves, coarsely chopped
¼ cup chives
PREPARATION
1. Cut the broccoli florets off the stem and cut them into bite-size pieces. Cut away the stem's outer skin. Cut the stem into 1 ¼- inch lengths, then cut into 1 ½-inch slices. There should be about 6 cups stems and florets.
2. Trim the snow peas. Core the tomatoes. Drop the tomatoes into boiling water for about 10-12 seconds. Drain immediately and peel. The skin should come off easily using a paring knife. Cut the tomatoes into ½-inch cubes. There should be about 2 ½ cups.
3. Bring a saucepan of salted water to a boil and add the broccoli. Bring to a simmer and cook for one minute. Add the snow peas and bring to a boil. Cook for 2 minutes. Do not overcook. The vegetables must remain crisp. Drain and reserve the cooking liquid.
4. Bring the reserved cooking liquid to a boil and add the spaghettini. Cook according to package directions. The pasta should be al dente. Drain and reserve ½ cup of the cooking liquid.
5. Heat the oil in a large skillet. Add the garlic and prosciutto. Cook and stir briefly, without browning. Add the tomatoes and red pepper flakes and cook, stirring, one minute. Add the vodka, cream, salt and pepper to taste. Bring to a simmer and cook one minute.
6. Transfer the pasta and vegetables to the skillet with the remaining tomato mixture. Add the cheese, basil, chives, and reserved cooking liquid. Bring to a simmer and toss well for one minute. Serve immediately.
YIELD
4 servings