Featured Recipe
Macaroni & Beef Casserole

Browse Recipes by Category
Enjoy your favorite recipe with wines selected by Jacques Franey, Pierre's son. Contact Domaine Franey.
Roast Breast of Turkey with Apple-Sausage Stuffing
Not everyone wants to roast a whole turkey for Thanksgiving. Here's a recipe just using a turkey breast with a delicious apple-sausage stuffing made on the stovetop.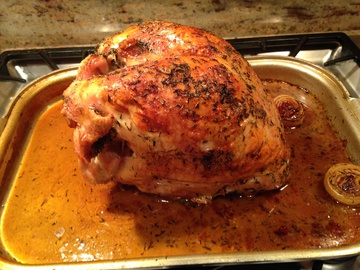 INGREDIENTS
1 fresh turkey breast, with ribs (4 pounds)
2 tablespoons peanut, corn or vegetable oil
Salt and freshly ground pepper to taste
½ teaspoon dry thyme
1 large onion (about ½ pound), peeled and halved
1 clove garlic, peeled
1 bay leaf
½ cup dry white wine
1 cup fresh or canned chicken broth
Apple-Sausage Stuffing
PREPARATION
1. Preheat the oven to 400 degrees.
2. Rub the turkey with the oil. Sprinkle with salt and pepper. Rub with the thyme inside and outside. Place the turkey breast, skin side up, in a roasting pan and place the onion, cut side down, around it. Place the garlic and bay leaf inside the breast and put the breast in the oven. Roast 30 minutes, then cover with foil.
3. Continue baking 15 minutes, basting. Remove the turkey from the roasting pan and pour off most of the fat.
4. Return the turkey breast to the pan, skin side up, and pour the wine and broth around it. Return to the oven and continue roasting 10 minutes, basting often. Remove from the oven and cover with foil. Let stand 10 to 15 minutes before carving. Carve and serve with the pan gravy and
Apple-Sausage Stuffing.
YIELD
6 to 8 servings