Featured Recipe
Macaroni & Beef Casserole

Browse Recipes by Category
Enjoy your favorite recipe with wines selected by Jacques Franey, Pierre's son. Contact Domaine Franey.
Breaded Oysters with Spinach
Oysters are always a favorite for New Year's Eve. This preparation, inspired by the French chef André Génin whose Paris restaurant, Chez Pauline, was one of Pierre's favorites, is a different take on the classic Oysters Rockefeller. If you choose to have your fish mongerer open the oysters be sure to save the oyster liquor.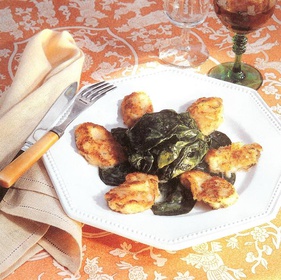 INGREDIENTS
12 oysters, like Malpêques, Belons or bluepoints
1 egg
1 cup toasted fresh French bread crumbs, pressed through a fine sieve
Juice of ½ lemon
6 tablespoons butter
2 cups spinach leaves (about ½ pound), washed, drained and trimmed
Salt and pepper to taste
Pinch of paprika, for decoration
PREPARATION
1. Cover the palm of your hand with a folded kitchen towel and place an oyster in it. Using an oyster knife, scrape any dirt from the oyster. Thrust the point of the knife into the hinge of the shell and run the knife around the oyster, forcing it open. Once the shell has been opened, scrape the oyster and its juices from the bottom shell into a small saucepan. Repeat until all oysters are removed from their shells.
2. Place the saucepan containing the oysters over medium heat and poach them in their juices for about 1 minute. Turn once during the cooking time. Be sure not to overcook. Remove the saucepan from the heat and transfer the oysters to a plate. Reserve the cooking juices.
3. In a small mixing bowl, beat the egg.
4. Dip each oyster first in the beaten egg and then in the bread crumbs, tapping to remove any excess.
5. Strain the reserved cooking juices through a fine sieve into a small saucepan and cook over medium heat until reduced to ¼ cup. Using a wire whisk, beat in the lemon juice and 3 tablespoons of butter, adding it one small piece at a time.
6. In a large nonstick skillet, over medium-high heat, melt 1 tablespoon butter and add the spinach. Cook, stirring, just until wilted. Remove and keep warm.
7. In another nonstick skillet large enough to hold the oysters in a single layer, melt the remaining 2 tablespoons over high heat. When the butter begins to bubble, add the oysters and cook on the first side until lightly browned. Turn and cook on second side. You should not cook the oysters for more than 1 to 2 minutes on each side.
8. Divide the spinach into the center of 4 warmed serving plates. Spoon the sauce around it. Arrange 6 oysters on each plate around the spinach. Sprinkle a pinch of paprika on the plate borders for decoration.
YIELD
4 servings, as a first course