Featured Recipe
Macaroni & Beef Casserole

Browse Recipes by Category
Enjoy your favorite recipe with wines selected by Jacques Franey, Pierre's son. Contact Domaine Franey.
Veal Scaloppine with Mushrooms
We recently returned from visiting friends in Tacoma, WA with two pounds of chanterelles in our suitcase -- a move Pierre would have applauded since chanterelles are in season! Although this recipe calls for 3/4 pound of mushrooms, we used twice that amount of chanterelles to smother the scaloppines when serving.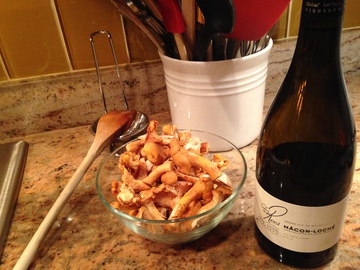 INGREDIENTS
12 slices veal scaloppine, about 1-1/4 pounds
3/4 pound mushrooms
2 tablespoons olive oil
1/4 cup peanut, vegetable, or corn oil
1/4 cup flour
Freshly ground black pepper to taste
2 tablespoons butter
1/3 cup finely chopped shallots
1/3 cup dry white wine
1/4 cup finely chopped parsley
PREPARATION
1. If your butcher has already done so, pound the scaloppine on a flat surface with a flat mallet. Do not break the tissues. Set aside.
2. Slice the mushrooms thinly. There should be about 5 cups. Set aside.
3. Heat the olive oil in a large skillet. When it is hot and almost smoking, add the mushrooms. Cook over moderately high heat until the mushrooms give up their liquid. Cook until the liquid evaporates and the mushrooms are browned. Set aside.
4. Heat the peanut oil in a large, heavy skillet. Dredge the scaloppine in flour seasoned with pepper. Cook the scaloppine, a few at a time, on both sides until light browned, for about 45 seconds on each side. As they are cooked, transfer them to a warm platter.
5. Pour off the oil from the skillet in which the scaloppine cooked. Add the butter and, when it is hot, add the mushrooms. Cook briefly, shaking the skillet and turning the mushrooms.
6. Add the shallots and cook briefly, stirring. Add the wine and cook, stirring to dissolve any brown particles that cling to the bottom of the skillet. Pour the mushrooms over the veal and serve sprinkled with chopped parsley.
YIELD
4 to 6 servings